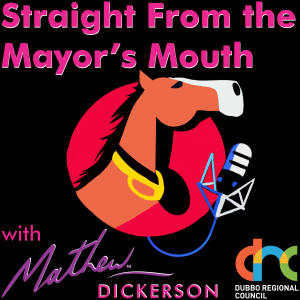 Sunday Mar 19, 2023
Why is the Mayor wearing leather? What prompted the Governor General to call the Mayor this week? How many Councillors are now able to play the didgeridoo?
Why did His Excellency General the Honourable David John Hurley AC DSC (Retd) call the Mayor of Dubbo Regional Council this week? 
Who is the new VRA Commissioner and why was he in Dubbo? 
Why did the Councillors tour Jinchilla Gardens and how many of the Councillors can now play the didgeridoo? 
Why did 'Boys to the Bush' visit Council? 
Waste2Art is now officially opened. 
The Mayor is putting on leathers and riding a motorbike to support what cause? 
The Macquarie River Master Plan will be considered at the Council meeting this week. 
Potential new airport charges will be debated at Council this week. 
Limerick of the Week.