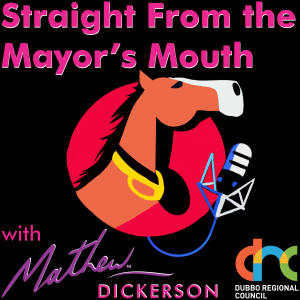 Sunday Jan 22, 2023
Sporting Carnivals in Dubbo, update on roads and funding, Green Energy Hub and details on Australia Day ceremonies.
2023 Swimming NSW Country Regional Meeting currently being held in Dubbo. 
NSW Country Athletic Championships currently being held at Barden Park. 
Council developing a business case for the Central West Orana Renewable Energy Zone Green Energy Hub. 
New Horseland store opened in Dubbo. 
New Zoo Hospital facility at the Zoo. 
Roads, roads, roads. 
Smokescreen Film Series returns to the Western Plains Cultural Centre. 
Details about Australia Day ceremonies in Wellington and Dubbo. 
Update on Fluoride in the drinking water in Wellington and Dubbo. 
Cricket NSW State Challenge for U14 Boys and U15 Girls being held in Dubbo. 
Latest news on the Old Dubbo Gaol entrance upgrade. 
Expressions of Interest invited for the Villages Committee. 
Reflection on Council in 2022. 
Limerick of the Week.